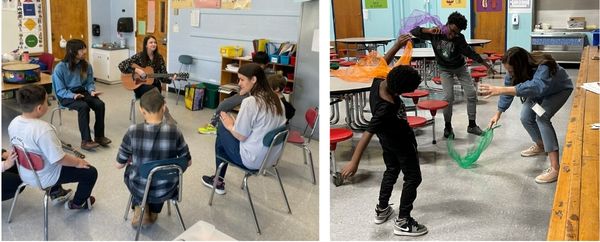 South Shore Conservatory (SSC) announces receipt of a $10,000 grant from South Shore Bank (SSB) to support its ImagineARTS and Creative Arts Therapies programs, two initiatives that provide access to the arts for historically underserved communities.
Like SSC, South Shore Bank believes strongly in serving the community, and values its local partnerships. SSB is committed to helping businesses and people of the South Shore thrive through the giving of time, talent and service. Both organizations welcome opportunities to work with schools and other organizations to address specific needs within the region.
"SSC believes the arts change lives, and recognizes that a large segment of the population does not have the opportunity to experience the benefits of participating in music and the performing arts because of financial, geographic, developmental or physical barriers," said SSC President Robert Cinnante. "We are grateful to South Shore Bank for helping break down some of these barriers by supporting two vital programs."
"Our commitment to supporting South Shore Conservatory's ImagineARTS and Creative Arts Therapies programs underlies our belief in the impact that music and art can have in maximizing the potential of all students. This partnership with Brockton public schools makes it even more special as our newest Banking Center will open in Brockton this spring," said Jim Dunphy South Shore Bank CEO.
SSC's ImagineARTS residency program partners with seven Brockton public schools to bring weekly art-integrated literacy instruction to nearly 800 students in 36 kindergarten classrooms for 25 weeks each year. Using music and the arts as a teaching tool, ImagineARTS strengthens pre-literacy skills among kindergarten students, targeting specific literacy skills such as sequencing, rhyming, and re-telling. This program provides professional development for classroom teachers, and a bridge to reading and the arts for families.
Creative Arts Therapies (CAT) programs at SSC use the arts and creative processes to help individuals of all ages maximize their abilities and improve health and wellness. Its music therapy, dance therapy and accessible yoga private and group programs are tailored to individual needs. The benefits of these programs are often life-changing. Qualified therapists and specialists facilitate programs such as the Singing with Parkinson's chorus, SSC Community Voices, Moving and Grooving, and SSC Memory Cafe for individuals dealing with memory loss.
Learn more about
South Shore Conservatory programs at South Shore Conservatory – Making Music Changing Lives (sscmusic.org)
or find South Shore Conservatory on
Facebook
,
Instagram
, or
YouTube
.