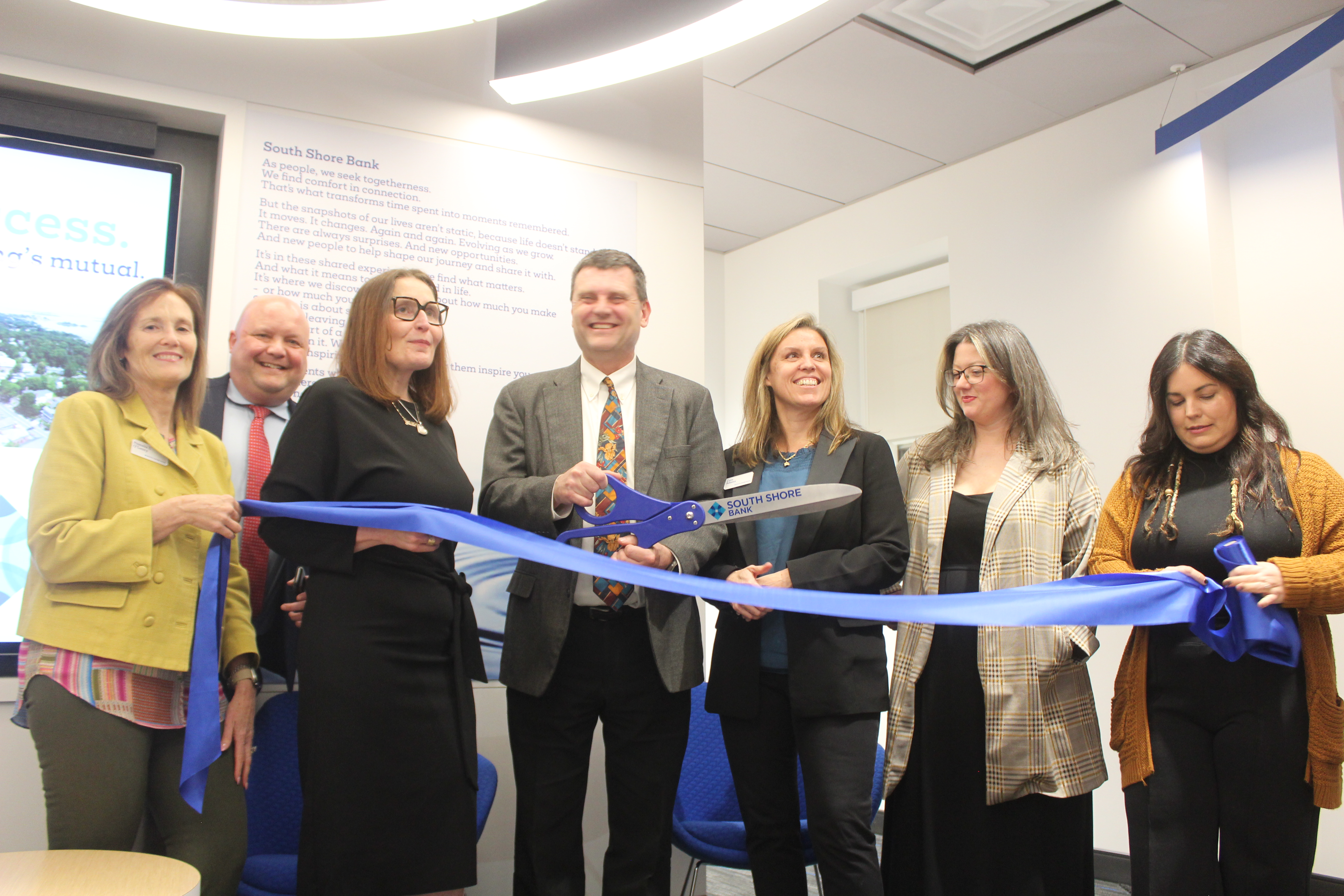 South Shore Bank hosted a reception to celebrate the grand reopening of its Braintree branch, conveniently located at 1010 Washington Street. The newly modernized location is designed to embrace digital-first banking while creating the ultimate customer experience for our valued clients. South Shore Bank celebrated the reopening with a reception attended by various town officials, as well as business and civic leaders. The event was highlighted by the presentation of the Diamond Award to Deanna Murphy and Ashley Sexton, owners of Verde Salon in Braintree, honored for having a positive impact and taking a leadership role in our community.
The Diamond Award was created by South Shore Bank to honor clients for charitable giving and helping the community. Verde Salon was founded by Deanna and Ashley in the same spirit, proudly operating Verde Salon as a zero waste, certified sustainable hair salon. Responsible beauty defines everything that these business owners do and they are deeply committed to choosing products and practices that reduce Verde Salon's carbon footprint. Deanna and Ashley have been South Shore Bank clients since founding their company in 2012. As woman entrepreneurs, they decided to approach a leading woman in the banking community, South Shore Bank Executive VP and Chief Operating Officer Pam O'Leary, about their banking needs and to find suitable real estate for their new business. Pam connected them with Commercial Loan Officer Heather Wilson and a very successful partnership began, launched by woman leaders from both Verde Salon and the Bank.
"South Shore Bank helped us get our literal dream building," said Ashely Sexton. "This award and recognition mean so much to us and I am getting emotional talking about it."
"From the very start, Heather (Wilson) was such a helpful presence from the Bank. She believed in us the whole time, walked us through the process and we couldn't be more happy to partner with South Shore Bank," added Deanna Murphy.
"We are beyond proud to have helped provide the financing for Verde Salon's first location and to support this wonderful woman-owned business from the very start," said South Shore Bank Commercial Banking Team Leader Cate Adams. "Ashley and Deanna have created a very successful business that exemplifies the meaning of our Diamond Award. They don't just focus on the beauty industry - they are also deeply committed to the Braintree community and its downtown area. Most admirable is their deep commitment to the protection and betterment of the environment, ensuring they leave the planet in a better place."
South Shore Bank Diamond Award Honorees are selected based on a demonstrated record of charitable giving and enriching the lives of others, in harmony with the Bank's philosophy of Sharing Success. The honor is also based on proven longevity and loyalty as a South Shore Bank client. Previous Diamond Award recipients are Previte's Marketplace owner Joseph Previte Jr. and restaurateur Leo Kaka, owner of Alba.