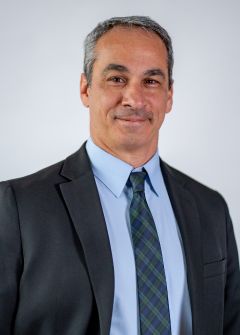 Mark DelCore has been named Chief Technology Officer for South Shore Bank. In this important role, Mark will develop and define the Bank's overall technology strategy to support its business objectives, and oversee data security, management, and governance. He will also direct IT Risk function and resource allocation, performance metrics, and manage all strategic vendor and technology relationships.
Mark joined South Shore Bank in 2001 as an IT network administrator. During the following two decades, Mark held several IT positions and had an important role helping the Bank adapt to rapidly advancing technologies and thrive in their implementation. Mark is a home-grown talent whose upward career trajectory at South Shore Bank has paralleled the institution's continued evolution in innovation, technology, data, and security.
"This is a proud moment for South Shore Bank. Mark is a true success story who epitomizes our commitment to training and career advancement for our valued team members. Mark helped build our IT infrastructure and guide development of the programs and products used to benefit clients and ensure the Bank is functioning as efficiently and securely as possible. Mark is uniquely and perfectly positioned to lead South Shore Bank into an exciting future," said Pamela O'Leary, Chief Operating Officer, South Shore Bank.
"When I joined the Bank a year ago, it was clear to me that the Bank understands the important role data and technology play in bringing our clients the best-in-class technologies and security solutions that grow with their ever-changing financial needs. Mark is a key member of our team here and his experience will continue to support our technology roadmap," said Chris McGowan, the Bank's Chief Information and Data Officer.
"Technology has rapidly advanced during the past 20 years and I have lived through that here at South Shore Bank," said Mark DelCore. "When I started, we had only 3 people in our department. Today, there's a talented team of professionals responsible for every aspect of our system, working in synergy to bring us to the next level. I am fortunate to work alongside them, in the industry and it's our great people who make us a leader in Community Banking."
Prior to joining South Shore Bank, Mark was a network administrator for Duxbury Public Schools. A native of the South Shore who resides in Norwell, Mark is passionate about giving back to the community, especially introducing underserved youth to potential information technology careers. Mark led the Bank's volunteer team that built a new computer lab for South Shore Stars, an organization providing comprehensive youth development programs for children from economically and culturally diverse families. The new lab and 16 PC's are being used by students participating in the after-school program in Randolph.
"Introducing youth to the wonders of technology is an investment in our future and my career at South Shore Bank proof-positive of a worthwhile investment," said DelCore.