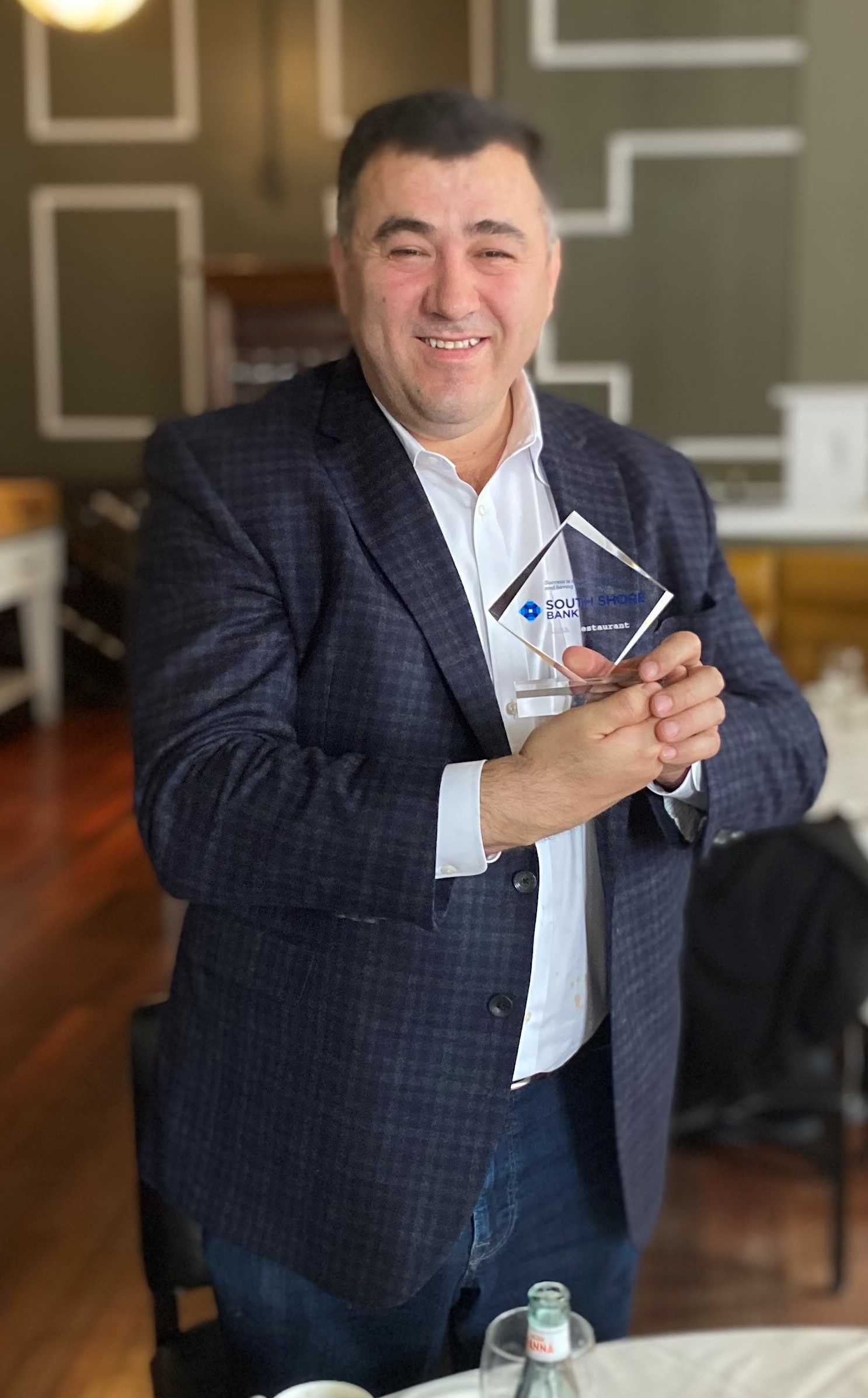 South Shore Bank presented its inaugural Diamond Award to Leo Keka, owner of Alba restaurant in Quincy. Leo was honored for his generosity and commitment to helping people impacted during the pandemic. South Shore Bank created this award to honor clients who demonstrate leadership and charitable giving within the community.
"Leo's selfless actions helping others while he struggled to keep his own business alive was amazing to see," said South Shore Bank CEO James Dunphy. "We are proud to have Leo as a client because he exemplifies our own 'Sharing Success' philosophy. He is the perfect first recipient of our Diamond Award."
Ask Alba Restaurant owner, Leo Keka, what matters to him and one word comes to his mind – "community". That is what he believes is the reason for the sustainability of his long-standing restaurant in Quincy Center – an important anchor business in that neighborhood and Alba on 53 in Hanover, a distinguished Mediterranean steakhouse. It is also a key reason that he trusts South Shore Bank for his business and personal banking relationships.
"I know my customers and that is why we're still around - and that's what I need from my bank. When I first met Jim (Dunphy), I knew he was genuine in wanting my business and would keep his word. They have my back, and as a business owner that's important for everything I do," says Leo.
For Leo, South Shore Bank's actions during the pandemic were yet another example of the bank's outstanding service. "I have been a client for over five years, and when the shutdown occurred in March, South Shore Bank called me right away and asked, 'What can we do to help you survive?'" Leo remembers. "I was so thankful."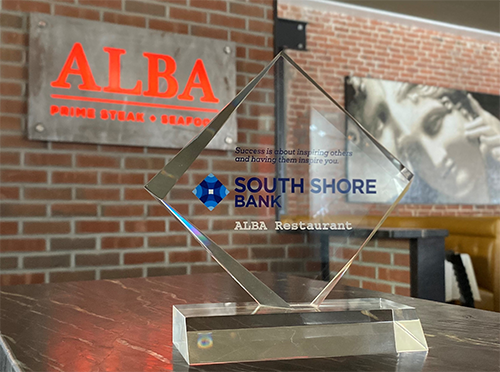 South Shore Bank assisted Leo in getting a Paycheck Protection Program (PPP) loan through the Small Business Administration. "It was incredible to see how on top of it the bank was. They didn't just help me, they helped over a thousand businesses obtain loans. They were there for people during a terrible time. When you are making money, it's easy for people to be there for you. When you're losing money and someone is there for you, it shows true dedication and integrity," says Leo.
Dedication and integrity are qualities that Leo embodies. When Alba's loyal customers showed their support by buying over $30,000 worth of gift cards before the holidays, Leo gave all the gift card money to his employees. "People needed some happy news," says Leo. "I wanted to thank my staff for successfully battling through a devastating year."
Giving back is important to Leo, who is truly living his dream. Thirty years ago, Leo came to America from Albania under challenging circumstances. Living under a violent dictatorship, at age 22 Leo fled the oppression in Albania. Under fire, he swam across a lake to Yugoslavia. He was then held for months in a refugee camp until a charity flew him to freedom and citizenship in the United States.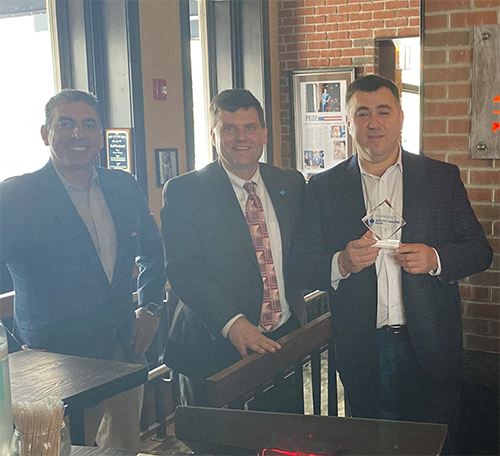 Needing a job, Leo looked to the restaurant business, as he had always loved food and wine. He spent seven years working at Anthony's Pier 4, and then four years at Grill 23. The full extent of his dream came true in 2001 when he opened Alba. His goal was to create a place on the South Shore that had the same high-end food, atmosphere, and wine as Boston restaurants, and he has delivered. The upscale restaurant and steakhouse has one of the most extensive wine lists in the entire state and offers dry aged steaks, as well as top-tier seasonal seafood, house-cured charcuterie and custom desserts. Alba on 53 also offers this same unparalleled food, atmosphere and service that keep customers coming back. "People work very hard," says Leo, "and when they treat themselves to something special by going to a nice restaurant, it's up to us to make sure they're enjoying themselves."
Leo is thrilled that his restaurants are open and operating. "South Shore Bank's assistance with obtaining the PPP loan during the shutdown helped us stay in business. I have been with several local, national and international banks, and South Shore Bank is the best I've ever worked with. As my businesses grow, I have South Shore Bank's full support. I get attentive service from all levels; from the moment I walk in the door. They care about my success, and they care about the South Shore's success. It is truly a community bank."