Debit Cards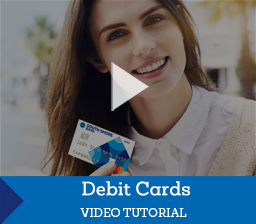 South Shore Bank Debit Mastercard®
What could be easier than writing a check and safer than carrying cash? Using your South Shore Bank Debit Mastercard® at restaurants, gas stations, department stores - anywhere Mastercard® is accepted!
Just make your purchase and it is automatically deducted from your checking account. You can also use our debit Mastercard® at our bank owned ATMs to get cash, make deposits, transfers or payments.
Best of all, your monthly statement reflects all your transaction details and you will earn uChoose Rewards® points for valuable merchandise each time you make a pinless (signed) purchase.
To view the Mastercard® guide to benefits for debit cardholders click here.
New! Instant-Issue Debit Mastercard®
You can now receive your new or replacement South Shore Bank Debit Mastercard® right at your local branch.
---
Bank at 7-Eleven® ATMs Surcharge-Free1!
Visit any of the 8,400 7-Eleven® ATMs throughout the country without incurring any fees or surcharges. You can withdraw cash, check balances and view transaction history, and transfer funds between your South Shore Bank accounts.
---
Fraud Text Notifications
You will receive real-time text alerts about your debit cards. These alerts notify you of potential fraud activity and allow you to respond quickly to stop fraud as soon as possible. All South Shore Bank customers with a cell phone on file are automatically enrolled. Please visit your local branch or contact the Customer Information Center by calling 781.682.3715 to add a text enabled cell phone or to update your current contact information.
1Powered by
©2020 7-Eleven, Inc. No ATM Fees when using your South Shore Bank Debit Mastercard at 7-Eleven® ATM Locations.