Learn More About ID Theft
Don't Be A Victim of Identity Theft! Protect your information.
South Shore Bank has extensive safeguards in place to keep your personal and financial information private. We remind you that we will never call and ask you for personal or banking information.
---
What To Do Right Away If You Suspect You're a Victim of Fraud
If you notice fraudulent activity on your account(s) here is a step-by-step guide from the FTC:
Step 1: Call the companies where you know fraud occurred.
Call the fraud department. Explain that someone stole your identity. Ask them to close or freeze the accounts. Then, no one can add new charges unless you agree.
Change logins, passwords and PINS for your accounts.
Step 2: Place a fraud alert and get your credit reports.
Place a free, one-year fraud alert by contacting one of the three credit bureaus. That company must tell the other two. You'll get a letter from each credit bureau. It will confirm that they placed a fraud alert on your name.
A fraud alert is free. It will make it harder for someone to open new accounts in your name. When you have an alert on your report, a business must verify your identity before it issues new credit in your name. You can renew the fraud alert after one year.
Get your free credit reports from Equifax, Experian, and TransUnion. Go to annualcreditreport.com or call 1-877-322-8228.

Did you already order your free annual reports this year? If so, you can pay to get your report immediately. Or follow the instructions in the fraud alert confirmation letter from each credit bureau to get a free report. That might take longer.

Review your reports. Make note of any account or transaction you don't recognize. This will help you report the theft to the FTC and the police.
Step 3: Report identity theft to the FTC.
Complete the online form or call 1-877-438-4338. Include as many details as possible.
Based on the information you enter, IdentityTheft.gov will create your Identity Theft Report and recovery plan.
Your identity theft report proves to businesses that someone stole your identity. It also guarantees you certain rights.
To learn more about IdentityTheft.gov click here to watch a short video.
---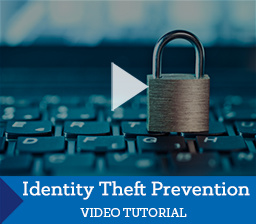 How you can protect vital information
Identity thieves cannot operate if they don't have key personal information
Never provide personal information unless you have initiated the contact.
Review your credit card and bank statements for unauthorized or suspicious activity.
Shred unnecessary financial documents and mail solicitations.
Make sure your computer has up-to-date spyware and security software.
For more information regarding identity theft prevention, or to report a complaint, visit FTC ID Theft, or call them at 1-877-IDTheft. If you have had any suspicious activity pertaining to your banking accounts, be sure to notify South Shore Bank by calling, (781) 682-3715.
For the South Shore Bank privacy policy, please click on the Privacy & Security button located on the home page.