uChoose Rewards®
Earn Points, Enjoy Your Rewards!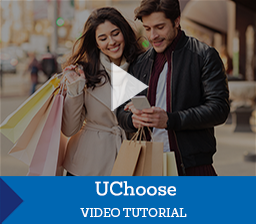 uChoose Rewards® is a rewards program where you earn points while shopping, just by using your South Shore Bank Debit Mastercard®. Points may be redeemed for your choice of merchandise, gift cards, concert tickets, and fun-filled travel from a huge online rewards catalog.
Every time you use your South Shore Bank Debit Mastercard® and sign for your transactions you will earn one point for every two dollars you spend after registering your card with uChoose Rewards®. PIN based transactions do not earn rewards points. You also may earn Special Points* rewards for purchases at participating retailers.
How Do I Register My South Shore Bank Debit Mastercard®?

How Do I Earn Points?

With uChoose Rewards® you can shop like you normally would and watch the rewards add up. To maximize your point earnings, when you are out shopping at any In-Store Retailer, during the payment process when you are asked "Debit or Credit", select the "Credit" option and sign for your transaction. Extra points may also be earned at some online merchants*. All participating online retailers are conveniently listed for you when you log into your uChoose Rewards® account.

How Do I Redeem My Points?

Log into your uChoose Rewards® account, click on "Redeem Points" and choose Activities, Event Tickets, Gift Cards, Merchandise or Travel. Then go shopping! Click on the item you are interested in, view all product information including the points needed to redeem item, product specs, and shipping info. When you decide on your item, just click "Add to Cart", proceed to checkout, place your order and wait for the delivery!

What if I forget my log in information or need to ask a question about my rewards or my order?

Your South Shore Bank Team will be happy to assist. Stop in at your favorite branch or call CIC (Customer Information Center) at 781-682-3715 or email us at cic at southshorebank dot com.
*Special Points rewards must be activated by logging into your uChoose Rewards® account.
**A qualifying purchase is a transaction at which both you and your South Shore Bank Mastercard® are present and you sign for the purchase at the time the transaction is processed. NOTE: PINned transactions, Telephone orders and Online transactions do not qualify. Some online transactions performed at a participating merchant's website may earn points. Log into your uChoose Rewards® account for a listing of these participating merchants.